Boomerang Perimeter Defense Solution
Features
Visual display of Boomerang sensors and shot detection locations

Intuitive, easy-to-use mapping interface

Dynamic load and display of map data (RPF, CIB, CADRG)

Advanced map tools, such as configurable exclusion zones

Event history replay with "snap back" feature if new events are detected

Fusion of shot events from multiple Boomerang systems

Import/export functionality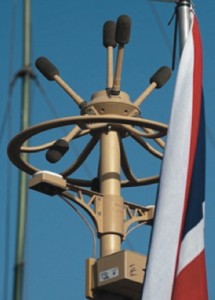 The Boomerang Shooter Detection System instantaneously reports the hostile shooter's position to the Boomerang Situation Awareness System (SAS). The Boomerang SAS immediately pinpoints the hostile shooter(s) and displays the shooter's location onto a map, allowing for a rapid, informed and coordinated response. The shooter detection and localization information is instantly displayed onto a single graphic display. This combined approach provides security personnel with the enhanced capabilities required to defeat small-arms perimeter threats and prevents loss of life.
The Boomerang SAS architecture supports any perimeter range from security check points to vast critical infrastructures. Regardless of the area or terrain, whether in a heavily populated urban environment or a remote location, the Boomerang SAS instantaneously reports the hostile shooter position on an intuitive, easy-to-use mapping environment.
The Boomerang SAS software remotely configures and networks multiple fixed-site Boomerang Systems and displays shooter location(s). Shooter locations are stored and replayed upon demand for intelligence or after action reviews. Maps or overhead imagery may be pre-loaded or imported for specific formats.
The Boomerang Perimeter Defense Solution combines state-of-the-art shooter detection technology with an advanced situational awareness system that reports hostile shooter activity in under a second. An ideal solution for critical asset protection against shooter-based threats allowing for a rapid, informed, and coordinated response.