Warrior-X Individual Worn Shooter Detection System
Features
Hostile shooter localization in azimuth, range, and elevation

Operates in all orientations (standing, prone, or leaning)

Full motion compensation

Return fire alert suppression

Simple operation and user interface

User Outputs: Visual/Aural Custom display of relative shooter location, alphanumeric display, and earpiece

Shot recall capability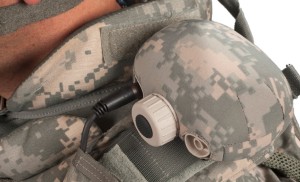 Boomerang Warrior-X is the best performing, most cost-effective compact dismounted shooter detection system available worldwide. At only 11 ounces, the Warrior-X system automatically alerts the individual of hostile small arms fire and accurately localizes the shooter(s) position, allowing for a rapid, informed, and coordinated response. The system works in both urban and mountainous terrain, without the need for user input. As with the Boomerang System, false alerts are non-existent. The ability to quickly and reliably identify the location of enemy firing locations provides the intelligence necessary to mini­mize threats and avoid human casualties.
The single, shoulder-mounted sensor provides individual soldiers immediate awareness of hostile fire locations whether during sniper (single shots) or rapid-fire engagements. When integrated, Warrior-X can provide unit leaders with the shooter grid coordinates with pin-point accuracy, enhancing the situational awareness needed to effectively coordinate team responses to hostile fire. Incoming shot announcements are heard from either a built-in speaker or through an earpiece. A light-weight visual display provides range, azimuth, and elevation of hostile shooter relative to the soldier.
As the individual moves, the sys­tem automatically compensates for the individual's motion and continually updates the threat's location on the display. Advanced shot recall technology is built into the system's computing technology for rapid after action review or to update bearing and location to a previous shooter's location while an individual maneuvers in an engagement area.
Boomerang Warrior-X provides the same reliability, features, and advanced product benefits as the widely fielded vehicle-mounted Boomerang III system – just significantly smaller, light weight, and integrated with tactical vests.