Warrior-XP Perimeter Defense Solution
Features
Hostile shooter localization in azimuth, range, elevation and 10 digit grid coordinates

Return fire alert suppression

Simple operation and user interface

Visual display of sensors and shot detection locations

Dynamic load and display of map data (RPF, CIB, CADRG)

Fusion of shot events from multiple sensors

Import/export capability

Event history/AAR reports

Lat/Lon or MGRS shooter locations

Audible and graphical shooter alerts within 1 second of sensor report

Intuitive graphical user interface for
–System setup
–System and sensor status
–Shot detection and reporting
–Dynamic load and display of map data

Multiple mapping tools for report generation, location identification, detection zones, exclusion zones, etc.

Timeline and shot event history at fingertips

90+ days of history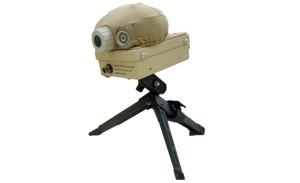 Boomerang Warrior-XP Perimeter Defense Solution combines the best performing, most cost-effec­tive low-profile perimeter shooter detection system available worldwide and the most accurate, intuitive Situation Awareness Display System. At less than 20 ounces, the Warrior-XP solution automatically detects hostile small arms fire and accurately localizes the shooter(s) position, allow­ing for a rapid, informed, and coordinated response. The system operates effectively in all known environments with no false alerts and when deployed, combines the ability to quickly and reliably locate the enemy's firing position with the intelligence necessary to minimize threats and avoid human casualties.
The Boomerang Situation Awareness application displays shooter location(s) instantaneously on a digitized map or overlaid on overhead imagery. Shooter locations may be stored and replayed upon demand for intelligence or after action reviews. Maps or overhead imagery may be pre-loaded or imported for specific formats. Alternatively, the Warrior-XP System can be configured for simple integration into third party applications by sending standard data messages, which provide the necessary information for mapping.
Boomerang Warrior-XP Perimeter Defense Solution provides the same reliability, features, and advanced product benefits as the currently fielded vehicle mounted and perimeter Boomerang Shooter Detection system – just significantly smaller, light weight, and more rapidly deployable.